RV's are a great way to enjoy the view from your home without having to carry all of your things. The problem with RV's is they don't have much space, so manufacturers came up with various ways to create storage compartments under it.
The storage compartment is typically referred to as the basement in an RV and there are many other names for it depending on what type of RV you have. For example, if you're interested in purchasing a fifth wheel trailer then the basement would be called an underbelly or a hitch house while some refer to this area as the bump out room or simply "the truck." One downside of having these spaces is that when you start filling them up, items can get lost quickly making it hard for people to find their stuff.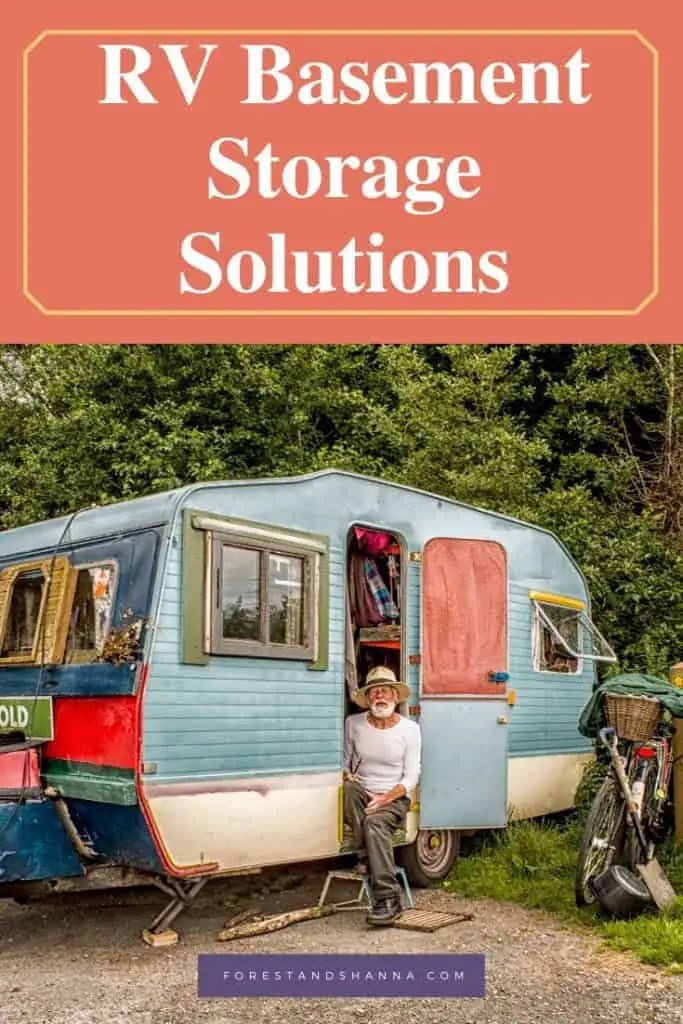 What is an RV Basement?
An RV basement is a storage compartment that's slightly different from the house. It doesn't give you much room to move around, but it does allow for extra space to keep all your important stuff with you on your journey – as there isn't much space in an RV! With no more room, you have to make sure everything is where it needs to be or else things will get messy and cramped.
Keeping your RV organized is the key to staying sane when living in it. You are going to need all the space you can get, so make sure not to leave any room for clutter.
If you are anything like me, then there is always something in your storage space that just doesn't seem to have a place. Maybe it's because your RV basement is too small or maybe it's because there are just so many things you want to store in the RV and they managed to get lost in the mess. Well, we've compiled some helpful information on what you can do to increase the storage space in your RV and also make it more efficient.
Storage for RVs can be difficult when you live in a tight space. There are some helpful RV hacks that you can use to make the most of your storage options.
Cargo slide (aka slide tray)
The way that the basement is under the RV, you have to dig deep inside most of them to find what you want. In other words, this can start take a toll on both your back and shoulders. It is not easy for everyone to bend down and reach deep inside to get your things. To help with this and finding everything easily there is an option of installing Cargo slides. It is one of the best RV basement storage ideas. 
Cargo Slider trays are installed in some newer models of RVs. However, if your RV doesn't come with cargo slider trays, don't worry! It's easy to add this nifty feature to your own vehicle. All you have to do is find a place for the tray and latch it in. In order to get the stuff out of the drawer all you have to do is pull on the latch and slide out whatever's inside! The only disadvantage is that cargo slider trays take up more space than standard drawers.
The gear you will need for installing the sliding tray can take up a lot of space. Make sure to choose durable and appropriate equipment, but think outside the box as well! You might have some extra buckets or baskets laying around that could provide more room in your basement drawer. This space can be helpful in keeping heavy items organized.
Heavy-duty RV drawer slides
Drawer slides are a great addition to RV basements. Living in a small space can be difficult, but with the right RV organization and drawer slides, it's easy to make every inch count! The drawers slide out smoothly and provide plenty of storage for all your belongings. And they won't take up any extra floor space – because you'll still have room for cabinets!
One thing to keep in mind when purchasing drawer slides is the weight of the items that will be stored. For heavy items, it's best to purchase heavy-duty slides with ball bearings on each side for a smoother and more durable glide. If you are looking for RV basement storage ideas, these types of slides can make your life so much easier!
Heavy duty drawer sliders will help you store heavier objects without experiencing any difficulty or wear and tear. When looking at RV basement storage ideas, these types of slides are great because they allow you to easily slide open drawers where other people might not be able to do so.

.
Suspend racks
In order to get the most out of your RV, it is important to keep the floor and counter free from clutter. There are many ways you can store different items in your RV-you may be able to use a suspend rack over the counter for some food storage. In addition, if you find yourself with more than one type of item that needs storing, such as pots and pans or cutlery, you might want to try using vertical shelves.
Granted, suspended racks can be helpful in many places, but one of the most popular ways to use this handy rack is next to your bed for all those things you need during night time. For example, a suspended rack installed by your bathroom sink will come in handy when it's time to find that toothbrush and toothpaste!
Storage tubs
RV basement storage is a vital part of owning an RV, but it can be hard to keep everything in order. One way to keep things together is with the use of storage tubs or storage bins. These containers help group items and provide a neat way for you to store objects within your RV's basement area. It will also make it easier for you when traveling since your RV would be cleaner and more organized than before!
If your RV is not clean and organize it will be frustrating for you to travel. If you want to avoid this problem, then invest in a variety of different sizes for your storage tubs. This will give you more flexibility when it comes to keeping things that won't fit within the same area sorted out. To help guide you in figuring out what's inside each container, you can also put stickers on them so they'll be easier to identify.
Weight management
In an RV it is important to know the weight of the luggage and the maximum weight your RV can handle. When you are driving you need to think about the tires and the pressure you are going to exert on them. Manage the stuff you need most. You should carry what is very important and you are going to need on your journey. If anything that comes in mind that you might need is a 'no'.
Lighting 
Many times it happens at home when you do not take time to change the bulb in the closet or room. However, the same case can happen when you go to find something and suddenly realize you were to install light to see things. At home, it can happen but on the road, it is very frustrating. Keep in mind to install good lighting in the RV. It is one of the RV basement storage ideas to install lighting in it.
The basement is going to carry much of your useful stuff. In other words, you need to put lighting in it so you can find your stuff easily. The lights you choose should be bright but the voltage should be low. You can choose the portable LED light or fixed lights. There is a variety of lighting in the market you can choose from. 
Conclusion
These RV basement storage solutions are very helpful for the best experience on the road. Follow the space-saving and organizing techniques and get the best experience of road trips. Please comment below if there are any other products that you use to organize your camper basement.
Related Posts:
Guide to Full-Time RV Living For Beginners