Living fulltime in an RV has many challenges as well as rewards. There are some things that have made our life much easier though.
I absolutely LOVE my Instant Pot. I use it for everything, including making bone broth. There are times that we have to work at the campground all day, so we throw in the frozen food, set the timer and when we get home, we have a nice hot meal waiting for us. We have the Instant Pot DUO60 6 Qt 7-in-1. We have had this for a little over 3 years and it is by far one of my favorite cooking appliances. The main reason I went with the Instant Pot over the other brands is because I liked the fact that the Instant Pot had a stainless steel insert instead of a non-stick one.
We have the AirFryer XL, 5.3QT that we bought in 2017. For the most part, I love it. However, my main complaint with this is that when you cook items in it for extended periods, it starts to smoke out the vent hole. Then I have to stop everything and wash it and then restart it. Which can turn into a huge pain! I've heard Instant Pot has come out with an Air Fryer now called Instant Vortex Plus and I'm dying to try it. I just can't justify it right now since I have a perfectly good air fryer though!
Dehumidifier
We bought the Pro Breeze Electric Mini Dehumidifier and to be honest I'm not happy with it despite the reviews. The most it would collect would be about a 1/4″ despite the windows and walls having condensation on them in the winter. I have yet to find one that is small that I actually like. Because we have a couple of guns with us and want to protect them from the humidity, we currently use DampRid. We have not had a single problem using this stuff yet and before long, there is just a bucket of water sitting there so we know it works! This is as close to a dehumidifier that I feel confident in recommending. They are also available at Walmart in the RV section which is where I typically get mine. 
Space heater
We use a cheap sunbeam space heater when we need a little extra heat in our camper. We picked it up from Walmart. I haven't found a link to the exact one that we have. My 17-year-old cat loves to lay in front of the heater and suck up the heat.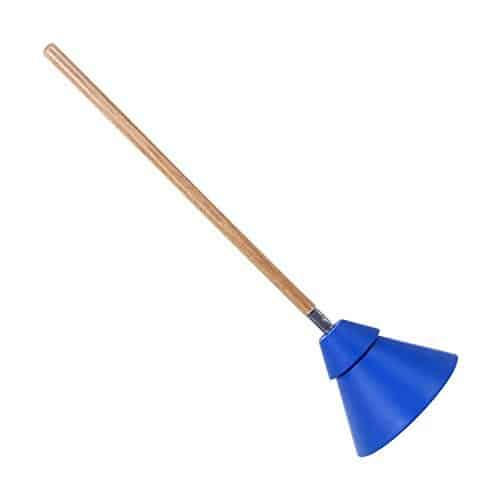 Washing clothes at laundromats can get expensive. Our camper doesn't have a spot for a washer and dryer but it does have a decent size bathtub. We wash our clothes in the bathtub using the Breathing Mobile Washer. I have a whole post devoted to this handly little tool here.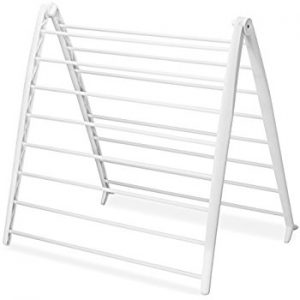 After washing your clothes, it's nice to have a way to dry them. This tool is also mentioned in my post on washing clothes in an RV. There are many different types out there, but I specifically wanted something that we could just prop on one end of the tub and lean against the wall so all the water would drip right down the drain. We picked ours up at Walmart, but they are available at Amazon also. The quality of these are cheap and ours was broken before we even got it out of the box. I just used a hot glue stick and never had a problem with it again. They are supposed to fold, but a lot of the reviews say the hinge wears out really fast so we just always left it open. We never had a problem doing it this way.
We use an IMUSA Electric Single Burner with 1100-Watts. It's great as a backup in case we run out of propane or need an extra burner. After all, the RV stoves are small enough. This is one of the things that I brought from my sticks and bricks house because it is such a great little backup. We have not had any problems with it and have been using it for 4 years now.
While I can use the RV oven, it's not the easiest to cook in. I absolutely love my cupcake maker. Make the batter, add the batter to the cupcake maker, and in 10 minutes you have delicious cupcakes. I have actually also used mine for meatloaf and other things. The one we have makes full size cupcakes. Unfortunately, the model we have appears to be no longer made. There are other brands out there, but I only have experience with this model. I also used this in my sticks and bricks house and it was a must for bringing with for us.
Conclusion
There are a lot of cool little gadgets out there. These are the ones that we personally use and recommend. I have included a few products that we used and don't recommend and what alternatives we used in its place.
Related Posts:
Guide to Full-Time RV Living For Beginners
3 Reasons You Should Start Full time RVing Now