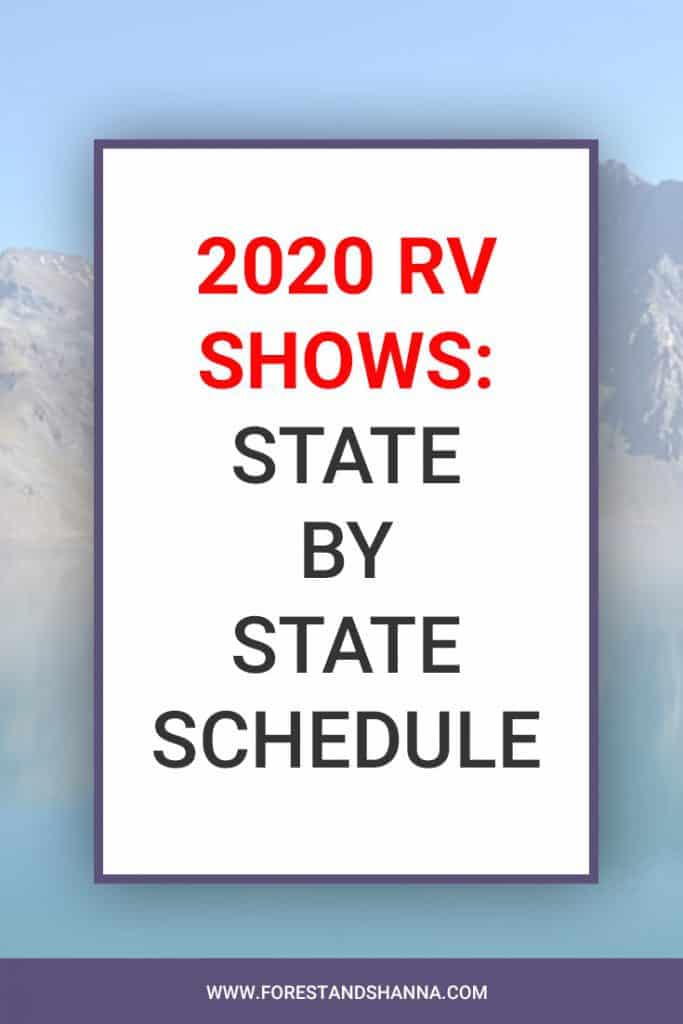 Attending an RV show is a great way to see the latest models of RVs. They are like the mega-malls of the RV world.
RV Shows are a great opportunity for prospective buyers to wander around between different models, check out various floor plans, ask tons of questions, meet other RVers, and find the RV that best suits their needs.
You will find many different types of campers from small travel trailers, Class A motorhomes, Class B camper vans, Class C RVs, 5th wheels, pop up campers, truck campers and used RVs. They have everything from inexpensive pop-up travel trailers to multi-million dollar Class A motorhomes all in one spot.
RV shows run all year around all around the country. For your convenience, we have sorted them by state in chronological order. We are constantly updating this page so you have the most up to date info.
Alabama
Gulf Coast RV Show
Canceled for 2021
Mobile Convention Center – Mobile, Alabama
Alabama RV Super Show
February 19–21, 2021
Von Braun Civic Center – Huntsville, Alabama
Birmingham RV Super Show
Feb 26–28, 2021
Birmingham-Jefferson Civic Center – Birmingham, Alabama
Alaska
The Great Alaska Sportsman Show Information
April 9–11, 2021
Sullivan & Ben Boeke Arenas, Anchorage – Alaska
Fairbanks Outdoor Show 
April 16–18 2021
Carlson Center Pioneer Room – Fairbanks, Alaska
Arizona
The Quartzite Sports, Vacation & RV Show
January 16–24, 2021
Quartzsite Show Grounds – Quartzsite, Arizona
ISE/GS Events Boat, RV, and Outdoor Sports Show
2021 TBD
Westworld of Scottsdale – Scottsdale, Arizona
Greater Phoenix RV Show
2021 Dates TBA
Phoenix Convention Center – Phoenix, Arizona
Tucson RV Show hosted by La Mesa RV
2021 TBD
Pima County Fair – Tucson, Arizona
Super B Show – La Mesa RV
2021 Dates TBA
State Farm Stadium – Glendale, AZ
Arkansas
Arkansas Marine Expo
January 12–24, 2021
Statehouse Convention Center – Little Rock, Arkansas
Arkansas RV Show
February 12–14, 2021
Statehouse Convention Center – Little Rock, Arkansas
Hot Springs Boat, Tackle & RV Show
February 26–February 28, 2021
Hot Springs Convention Center & Summit Arena – Hot Springs, Arkansas
California
Annual Manufacturers RV Show & Sale
2021 Dates TBA
Alameda County Fairgrounds – Pleasanton, California
The Real RV Show
March 11–14, 2021
Cal-Expo – Sacramento, California
Central Valley Sportsmen's Boat, RV Show & Outdoor Living Show
March 12–14, 2021
Bakersfield Fairgrounds – Bakersfield, California
California RV Show 
Permanently Cancelled
Auto Club Speedway, Fontana, CA
Fred Hall Show Long Beach
2021 Dates TBA
Long Beach Convention & Entertainment Center
Fred Hall Show San Diego
2021 Dates TBA
Del Mar Fairgrounds
Colorado
Colorado RV Adventure Travel Show
January 7–9, 2021
Colorado Convention Center – Denver, Colorado
Great American RV Show Colorado Spring
September 9-11, 2021
Norris Penrose Event Center, Colorado Springs
Colorado Springs RV & Outdoor Show
February 4-6, 2021
Colorado Springs Event Center – Colorado Springs, Colorado
Colorado RV, Sports & Travel Show
March 4-7, 2021
National Western Complex – Denver, CO
Colorado Springs RV & Travel Expo
April 1–3, 2021
Colorado Springs Event Center – Colorado Springs, Colorado
Northern Colorado RV & Outdoor Show
February 27-29, 2020
First National Bank Building at The Ranch complex – Loveland, C
Connecticut
Northeast RV & Camping Show
January 28-30, 2022
Connecticut Convention Center – Hartford, Connecticut
Florida
Florida RV SuperShow
January 13-17, 2021
Florida State Fairgrounds – Tampa, Florida
Fort Myers RV Show
January 21-24, 2021 
Lee Civic Center – Fort Myers, Florida
Jacksonville RV Mega Show
February 11-14, 2021
Jacksonville Equestrian Center- Jacksonville, Florida
West Palm Beach RV Show
February 18-21, 2021
South Florida Fairgrounds – West Palm, Florida
Ocala RV Show
March 4-7, 2021
Florida Horse Park – Ocala, Florida
Tampa Bay Summer RV Show
June 10-13, 2021
Florida State Fairgrounds – Tampa, Florida
Jacksonville Fall RV Show
2021 Dates TBA
Morocco Shrine Auditorium- Jacksonville, Florida
Panhandle RV Show
2021 Dates TBA
Emerald Coast Convention Center – Ft. Walton Beach, FL
Tampa Bay Fall RV Show
2021 Dates TBA
Florida State Fairgrounds – Tampa, Florida
West Palm Beach Fall RV Show
2021 Dates TBA
South Florida Fairgrounds – West Palm, Florida
Georgia
Atlanta Camping & RV Show
2021 Cancelled
Atlanta Exposition Center South – Atlanta, Georgia
Georgia RV & Camper Show
February 12-14, 2021
Cobb Galleria Centre – Atlanta, Georgia
Greater Atlanta RV Show
2021 Dates TBA
Georgia International Convention Center – College Park, Georgia
Idaho
Treasure Valley RV Show & Sale
2021 Dates TBA
ALL Expo Buildings – Boise, Idaho
Illinois
Chicago Boat, Sports & RV Show
2021 Cancelled
January 12 – 16, 2022
McCormick Place North – Chicago, Illinois
Greater Chicago RV Show
January 22-24, 2021
Renaissance Schaumburg Convention Center- Schaumburg, IL\
52nd Annual Chicago RV & Camping Show
2021 Cancelled
February 17-20, 2022
Donald E. Stephens Convention Center – Rosemont, Illinois
QCCA/RV & Camping Show
2021 Dates TBA
QCCA Expo Center – Rock Island, IL
Central Illinois RV Show
March 5-7, 2021
Peoria Civic Center – Peoria, Illinois
Annual Rockford RV, Camping & Travel Show
March 12-14, 2021
Indoor Sports Center – Loves Park, Illinois
Springfield RV and Camping Show
March 19-21, 2021
BOS Center – Springfield, IL
RV & Camper Show
2021 Dates TBA
Belle-Clair Fairgrounds – Bellville, IL
Bellville RV & Camping Show
2021 Dates TBA
Belle-Clair Fairgrounds – Bellville, Illinois
Buy! Buy! Derby RV Sale
2021 Dates TBA
Arlington International Racecourse, Arlington Heights, IL
Indiana
Annual Indy RV Expo
January 9-17, 2021
Indiana State Fairgrounds – Indianapolis, Indiana
Valley RV & Camping Show
2021 Canceled
Century Center – South Bend, Indiana
Fort Wayne RV & Camping Show
January 28-31, 2021
Allen County War Memorial Coliseum – Fort Wayne, Indiana
Indianapolis Boat, Sport & Travel Show
February 19 – 28, 2021
Indiana State Fairgrounds – Indianapolis, Indiana
Springfield RV & Camping Show
March 19-21 2021
BOS Convention Center – Springfield, Illinois
Spring Hall of Fame RV & Camping Show
April 29 – May 2, 2021
RV/MH Hall of Fame – Elkhart, Indiana
Midwest RV Super Show
2021 Dates TBA
RV/MH Hall of Fame – Elkhart, Indiana
Iowa
Des Moines RV and Outdoor Show
2021 Dates TBA
Iowa Events Center, Des Moines, IA

River City Hunting, Fishing, RV & Boat Expo
2021 Cancelled
Mid-America Center, Council Bluff, Iowa
Iowa Boat, RV & Vacation Show
January 15-17, 2021
University of Northern Iowa, UNI-Dome – Cedar Falls, Iowa
Cedar Rapids Sportshow
February 26-28, 2021
Hawkeye Downs Expo Center – Cedar Rapids, Iowa
Iowa's Original RV Camping Show
2021 Cancelled
Iowa State Fairgrounds, Des Moines, Iowa
Eastern Iowa Sportshow
March 12-14, 2021
University of Northern Iowa, UNI-Dome – Cedar Falls, Iowa
Kansas
Annual Wichita RV Show
2021 Dates TBA
Kansas Pavillions – Valley Center, Kansas
Greater Kansas RV Show
2021 Dates TBA
Century II Expo Hall – Wichita, Kansas
Topeka Boat, RV & Outdoor Show
February 26-28, 2021
Kansas Expocentre – Topeka, Kansas
Wichita Sports Show
2021 Dates TBA
Century II Convention Center – Wichita, KS
Overland Park RV & Outdoor Show
February 19-21, 2021
Overland Park Convention Center – Overland Park, KS
Kentucky
Louisville Boat, RV & Sportshow
2021 Cancelled
January 26-30, 2022
Kentucky Exposition Center – Louisville, Kentucky
Kentucky Sport, Boat & Recreation Show
2021 Dates TBA
Lexington Convention Center – Lexington, KY
Louisiana
Southern Louisiana Boat, Sport & RV Show
January 10 – 12, 2020
Houma Terrebonne Civic Center – Houma, Louisiana
Central Gulf Coast Boat, Sport & RV Show
January 17 – 19, 2020
Lake Charles Civic Center – Lake Charles, Louisiana
Baton Rouge New Orleans RV Show
March 19 – 22, 2020
Lamar Dixon Expo Center – Kenner, Louisiana
Acadiana RV, Sport, & Boat Show
April 9 – 11, 2020
Cajun Field – Lafayette, Louisiana
Maine
The Vacationland RV & Camping Show
April 4 – 5, 2020
Norway Savings Bank Arena – Auburn, Maine
Maryland
Maryland RV Show
February 14 – 16, 2020
February 21 – 23, 2020
Maryland State Fairgrounds – Timonium, Maryland
Massachusetts
Worcester RV & Camping Show
February 21 – 23, 2020
DCU Center – Worcester, Massachusetts
New England – Boston RV & Camping Expo
January 24 – 26, 2020
Boston Convention & Exposition Center – Boston,  Massachusetts
Springfield RV Camping & Outdoor Show
February 14 – 17, 2020
Eastern States Exposition Grounds – West Springfield, Massachusetts
Michigan
Grand Rapids Camper, Travel & RV Show
January 9 – 12, 2020
DeVos Place – Downtown Grand Rapids – Grand Rapids, Michigan
54th MRVAC RV & Camping Show Detroit
February 5 – 9, 2020
Suburban Collection Showplace – Novi, Michigan
Annual Battle Creek Camper & RV Show
March 5 – 8, 2020
Kellogg Arena – Battle Creek, Michigan
Annual Port Huron Camper & RV Show
March 12 – 15, 2020
Blue Water Convention Center – Port Huron, Michigan
Annual Flint Camper & RV Show
March 19 – 22, 2020
Dort Federal Credit Union Event Center – Flint, Michigan
Annual Northwest Michigan Camper & RV Show
March 27 – 29, 2020
Grand Traverse County Civic Center – Traverse City, Michigan
30th Annual Fall Detroit Camper & RV Show
2020 Dates TBA
Suburban Collection Showplace – Novi, Michigan
Lansing Family RV Show
2020 Dates TBA
Michigan State Univerity Agricultural Pavilion – East Lansing, Michigan
Annual Upper Peninsula Boat, Sport & RV Show
2020 Dates TBA
Superior Dome – Marquette, Michigan
Minnesota
Minnesota Sportsmen's Boat, Camping & Vacation Show
January 9 – 12, 2020
St. Paul Rivercentre – St. Paul, Minnesota
Minneapolis St. Paul RV Vacation & Camping Show
February 6 – 9, 2020
Minneapolis Convention Center – Minneapolis, Minnesota
St. Cloud Sportsmen's Boat, Camping & Vacation Show
February 7 – 9, 2020
St. Cloud Civic Center, St. Cloud, Minnesota
Duluth Boat Sports Travel & RV Show
February 12 – 16, 2020
Duluth Entertainment Convention Center – Duluth, Minnesota
Northwest Sportshow
April 2 – 5, 2020
Minneapolis Convention Center – Minneapolis, Minnesota
Mississippi
Biloxi Boat & RV Show
February 7 – 9, 2020
Mississippi Coast Coliseum – Biloxi, Mississippi
Missouri
Springfield Boat & RV Sale & Show
January 10 – 12, 2020
Ozark Empire Fairgrounds E-Plex Indoors – Springfield, Missouri
Mid-America RV Show
January 16 – 19, 2020
Kansas City Convention Center – Kansas City, Missouri
St. Louis RV, Vacation & Travel Show
February 21 – 23, 2020
America's Center – St. Louis, Missouri
Springfield RV Mega Show
March 6 – 8, 2020
Ozark Empire Fairgrounds E-Plex Indoors – Springfield, Missouri
Montana
Great Rockies Sport, RV & Boat Show – Billings
January 17 – 19, 2020
MetraPark – Billings, Montan
Billings RV & Boat Show & Sale
February 20 – 24, 2020
MetraPark – Billings, Montana
Great Rockies Sport, RV & Boat Show – Bozeman
2020 Dates TBA
Brick Breeden Fieldhouse – Bozeman, Montana
Great Rockies Sport, RV & Boat Show – Helena
2020 Dates TBA
Lewis & Clark County Fairgrounds – Helena, Montana
Great Rockies Sport, RV & Boat Show – Missoula
2020 Dates TBA
Adams Center – University of Montana – Missoula, MT
Montana RV–Boat & Power Sports Show
2020 Dates TBA
Four Seasons Arena – Great Falls, Montana
Montana RV-Boat & Power Sports Show
2020 Dates TBA
Metra Park Expo Center – Billings, MT
Nebraska
Nebraska Boat, Sport, & Travel Show
January 31 – February 2, 2020
Lancaster Event Center – Lincoln, Nebraska
Nevada
Northern Nevada RV Show 
2020 Dates TBA
Livestock Events Center, Reno, Nevada
New Hampshire
46th Annual New Hampshire Camping & RV Show
March 27 – 29, 2020
New Hampshire Sportsplex – Bedford, New Hampshire
New Jersey
New Jersey RV & Camping Show
January 17 – 19, 2020
New Jersey Convention Center – Edison, New Jersey
Atlantic City RV & Camping Show
February 14 – 16, 2020
Atlantic City Convention Center – Atlantic City, New Jersey
Wildwood RV Show
2020 Dates TBA
Wildwoods Convention Center, Wildwood, New Jersey
New Mexico
New York
Hudson Valley RV & Boat Show
January 3 – 6, 2020
Hudson Valley Community College – Troy, New York
Western New York RV Show
January 17 – 26, 2020
Erie County Fair Grounds, Hamburg, New York
44th Annual Northeast RV Show
February 14 – 17, 2020
Rockland Community College Field House – Suffern, New York
50th Annual CNY RV and Camping Show
March 5 – 8, 2020
New York State Fairgrounds – Syracuse, New York
25th Annual NYS RV and Camping Show
March 5 – 8, 2020
New York State Fairgrounds – Syracuse, New York
27th Annual Champlain Valley RV & Boat Show
March 21 – 24, 2020
Crete Memorial Civic Center – Plattsburgh, New York
North Carolina
NCRVDA Greensboro RV Show
January 3 – 5, 2020
Greensboro Coliseum – Greensboro, North Carolina
NCRVDA Charlotte Fall RV Show
January 24 – 26, 2020
The Park Expo Conference Center – Charlotte, North Carolina
Mountain RV, Boat & Recreation Show
February 7 – 9, 2020
WNC AG Center – Fletcher, North Carolina
NCRVDA Raleigh Fall RV Show
February 21 – 23, 2020
State Fair Grounds – Raleigh, NC
North Dakota
Annual Red River Valley Sportsmen's Show
March 5 – 8, 2020
Fargodome – Fargo, North Dakota
Ohio
Ohio RV & Boat Show
January 10 – 19, 2020
Ohio Expo Center State Fairgrounds – Columbus, Ohio
Cincinnati Travel, Sports & Boat Show
January 17 – 26, 2020
Duke Energy Convention Center – Cincinnati, Ohio
Cincinnati – Dayton RV Super Show
January 30 – February 2, 2020
Dayton Convention Center – Dayton, Ohio
Columbus RV Show
February 28 – March 1, 2020
Greater Columbus Convention Center – Columbus, Ohio
Ohio Outdoor RV Bargain Expo
September 13 – 15, 2020
Cuyahoga County Fairgrounds – Middleburg Heights, OH
Oklahoma
OKC Boat, RV & Tackle Show
January 10 – 12, 2020
OKC State Fair Park – Oklahoma City, Oklahoma
Tulsa Boat, Sports & Travel Show
January 27 – February 2, 2020
River Spirit Expo at Expo Square – Tulsa, Oklahoma
Lawton RV, Boat & Outdoor Leisure Show
2020 Dates TBA
Commanche County Fairgrounds – Lawton, Oklahoma
49th Annual RV Super Show
2020 Dates TBA
State Fair Park – Oklahoma City, Oklahoma
Green Country RV Show
2020 Dates TBA
River Spirit Expo Square – Tulsa, Oklahoma
Oregon
Salem Spring RV Show
February 6 – 9, 2020
Oregon State Fair & Expo Center – Salem, Oregon
Eugene Spring RV Show
February 28 – March 1, 2020
Lane County Fairgrounds – Eugene, Oregon
Pennsylvania
Annual RV & Campgrounds Show
January 10 – 12, 2020
Allentown Fairgrounds, Agricultural Hall – Allentown, Pennsylvania
The Original Pittsburgh RV Show
January 11 – 19, 2020
The David L. Lawrence Convention Center – Pittsburgh, Pennsylvania
Erie RV, Camping & Powersports Spectacular
February 6 – 9, 2020
Bayfront Convention Center – Erie, Pennsylvania
Harrisburg RV & Camping Show
February 21 – 23, 2020
PA Farm Show Complex & Expo Center – Harrisburg, Pennsylvania
Hershey Pennsylvania RV & Camping Show
September 16 – 20, 2020
Hersheypark Entertainment Complex, Giant Center – Hershey, Pennsylvania
Pennsylvania Adventure RV Expo
2020 Dates TBA
Blair County Convention Center – Altoona, Pennsylvania
Greater Philadelphia RV Show
2020 Dates TBA
Greater Philadelphia Expo Center – Oaks, Pennsylvania
York Campers World RV Show
2020 Dates TBA
York Expo Center – York, Pennsylvania
Rhode Island
Rhode Island RV & Camping Show
February 28 – March 1, 2020
Rhode Island Convention Center, Providence, Rhode Island
South Carolina
South Carolina RV & Camping Show – Greenville
January 3 – 5, 2020
TD Convention Center, Greenville, South Carolina
South Dakota
Sioux Empire Sportsmen's Boat, Camping & Vacation Show
March 12 – 15, 2020
SF Arena & Convention Center – Sioux Falls, South Dakota
Tennessee
Knoxville RV Super Show
January 10 – 12, 2020
Sevierville Event Center, Sevierville, Tennessee
The Nashville RV Super Show
January 24 – 26, 2020
Music City Center, Nashville, Tennessee
Chattanooga RV Super Show
2020 Dates TAB
Chattanooga Convention Center – Chattanooga, Tennessee
Texas
South Texas RV Supersale
January 2 – 5, 2020
Joe Freeman Coliseum, San Antonio, Texas
Tarrant County RV Show
January 2 – 5, 2020
Fort Worth Convention Center, Fort Worth, Texas
Austin Boat & Travel Trailer Show
January 3 – 5, 2020
Austin Convention Center, Austin, Texas
The East Texas Boat & RV Show
January 24 – 26, 2020
Maude Cobb Activity Center, Longview, Texas
The All Valley RV & Outdoor Show
January 2020 Dates TBA
RGV Livestock Show Grounds, Mercedes, Texas
Midessa Boat, RV, Sport & Gun Show
February 7 – 9, 2020
Ector County Coliseum – Odessa, Texas
Houston RV Show
February 12 – 16, 2020
Reliant Center – Houston, Texas
Austin RV Expo
February 13 – 16, 2020
Austin Convention Center, Austin, Texas
Coastal Bend Boat & RV Expo
2020 Dates TBA
Borchard Regional Fairgrounds – Bobstown, Texas
Dallas RV Super Sale
2020 Dates TBA
Dallas Market Hall – Dallas, Texas
Utah
The Utah Sportsmen's, Vacation & RV Show
February 13 – 16, 2020
South Town Expo Center – Sandy, Utah
Utah RV Super Show
2020 Dates TBA
Mountain American Expo Center – Sandy, Utah
Vermont
20th Annual Vermont State RV & Camping 
February 21 – 23, 2020
Champlain Valley Expo – Essex Junction, Vermont
17th Annual Vermont State Fall RV Show
2020 Dates TBA
Champlain Valley Expo – Essex Junction, Vermont
Virginia
Richmond Camping RV Expo
February 7 – 9, 2020
Richmond Raceway Complex – Richmond, Virginia
31st Annual Washington Camping RV Expo
January 10 – 12, 2020
Dulles Expo Center – Chantilly, Virginia
Washington Camping RV Expo
January 10 – 12, 2020 
Dulles Expo Center – Chantilly, VA 
37th Annual Tidewater RV Show
January 17 – 19, 2020
Virginia Beach Convention Center – Virginia Beach, Virginia
Fredericksburg RV Show
2020 Dates TBA
Fredericksburg Expo & Conference Center – Fredericksburg, Virginia
Virginia RV Show – Hampton
2020 Dates TBA
Hampton Roads Convention Center – Hampton, Virginia
Washington
Tacoma RV Show
January 16 – 19, 2020
Tacoma Dome – Tacoma, Washington
Inland Northwest RV Show & Sale
January 23 – 26, 2020
Spokane County Fair & Expo Center – Spokane, Washington
Seattle RV Show
February 6 – 9, 2020
Century Link Field Event Center – Seattle, Washington
Washington State Evergreen Spring RV Show
April 3 – 5, 2020
Evergreen State Fairgrounds – Monroe, Washington
Puyallup Home & RV Show
April 30 – May 2, 2020
Puyallup Fairgrounds – Puyallup, Washington
West Virginia
Huntington RV & Boat Show
2020 Dates TBA
Big Sandy Superstore Arena – Huntington, West Virginia
Wisconsin
WBAY RV & Camping Show
January 23 – 26, 2020
Resch Center – Green Bay, Wisconsin
La Crosse Boat Sports, Travel, RV & Hunting Show
February 6 – 9, 2020
La Crosse Center – La Crosse, Wisconsin
Milwaukee RV Show
February 27 – March 1, 2020
Wisconsin Exposition Center – West Alias, Wisconsin
Central Wisconsin RV & Camping Show
March 13 – 15, 2020
The Patriot Center – Wausau, Wisconsin
Madison Camper & RV Show & Sale
2020 Dates TBA
Alliant Energy Center, Exhibition Hall – Madison, Wisconsin
RV & Boat Show Main Event
2020 Dates TBA
EAA Grounds – Oshkosh, Wisconsin
Wisconsin RV Super Show
2020 Dates TBA
Wisconsin Center – Milwaukee, Wisconsin
Wyoming
Wyoming Outdoor Weekend & Expo
2020 Dates TBA
Lander Community Center – Lander, Wyoming