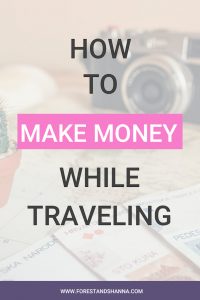 Whether you are looking for a work at home job or you are looking for ways to earn an income from the road, there are quite a few ways to accomplish this. Being able to earn an income from the road was a big question for us before we took the plunge to full-time RV. To accomplish our dream, we created multiple streams of income to achieve our goal of living on the road. Here are some ways that we earn an income from the road to allow us to travel.
Virtual Assistant
Being a virtual assistant is pretty easy basically you have a skill, and someone pays you to use your skill to help them. One of the main reasons that I went this route was because I knew that I had a lot to offer as a virtual assistant because I'm very technically inclined, good with graphics, can write blogs, do administrative tasks and much more. Here are a few services you can offer as a virtual assistant:
Writing
Ghostwriting
Graphic design
Researching
Editing
Tutoring
Desktop publishing
Audio / video / photo editing
Consulting / counseling / coaching
Bookkeeping
Copywriting
Social media management
Project management
Transcription
WordPress management
Data entry
Arranging travel
Anything else you can do without having to be in the same physical location as your client
Horkey Handbook has a list of 150+ Virtual Assistant Services that you can offer as a VA. I took Gina Horkey's course before I launched my business to make sure that I was doing it right. Please note that you do NOT have to take a course to become a virtual assistant. I'm kind of anal about doing things and wanted to make sure that I covered all of my basics, so I took a course. In a future post, I'm going to show you free courses you can take to become a Virtual Assistant so stay tuned for that!
To be completely honest, I'm not the greatest at selling myself because I'm an introvert and don't like talking about myself. This makes it slightly harder to get clients on my own. While I do have a few of my own clients, I also work as a Virtual Assistant through Time Etc.  I make $11 an hour working through them and get to pick and choose my clients and tasks. They are great for filling in the extra time that I have.
If you do now want to have your own virtual assistant business or are like me and are an introvert so you would rather work for another company, here are a few places that hire virtual assistants:
Social Media Management
This could also fall under Virtual Assistant. There are many companies out there that recognize the benefits of having a social media presence for their business, but don't have the time to take it on themselves. This is where a social media manager comes in. If you are interested in going this route, there are a lot of courses and other free information out there on social media. The course that helped me the most was Rachel Petersen's Social Media United Course.  I'm not an affiliate of her course (I'm not sure if she even she has an affiliate program), but I seriously loved her course. I have learned so much from it.
Freelance Writing
If you love writing, then freelance writing may be for you. There are quite a few places to find freelance writing gigs. I would stay away from places like freelancer.com and upwork.com. There are people that have great success with those kinds of sites, but I have not. Take freelancer.com for instance; I have found there to be lots of scams on there. If you take a job not realizing that it is a scam, Freelancer automatically takes a portion of your money even though you will never see a dime. They are also pretty much-bidding wars, so you don't make very much money on them.
If you are looking for a great way to learn how to start your freelance writing business, Contena is a great place to start. Not only do they have a job board, but they also have an academy to help you.
Gina from Horkey Handbook also has a course called 30 Days or Less to Freelance Writing Success. I have not personally taken this course, but I have taken her 30 Days or Less to Virtual Assistant Success course and her Pinterest VA course and thought they were good courses.
If you are looking for some free job boards to find some freelance writing gigs, here are a couple to start with:
Blogging
While I don't make a lot of money blogging, I do make some. Most of these come from ads and affiliate marketing. This is a new income stream for me, so it is still growing. At the moment, I only make about $100-$200 a month from both of my blogs, but I am hoping to improve that more in the future. I have taken Michelle's course Making Sense of Affiliate Marketing to help step up my game, so I will do a review of her course in the future to let you know my thoughts. Here are some resources if you are looking to go this route.
Making Sense of Affiliate Marketing – Michelle at Making Sense of Cents has a great affiliate marketing course that teaches you everything you need to know to make money through affiliate marketing from your blog. Michelle earns over $50,000 a month through affiliate marketing, and she teaches you exactly how in this course. I have only recently taken this course and am still learning to apply what I have learned.
Elite Blog Academy – If you are looking for a great overall blogging course that will teach you how to start a blog from the very beginning, I recommend signing up for the waitlist for Elite Blog Academy. This is not open right now, but it will be soon so you will want to be sure to be on the waitlist right when that happens. I have not personally taken this course as I couldn't swing the cost, but I have heard great things about it.  You can receive 7 Surefire Ways To Boost Your Blog Income Overnight for free for signing up for the waitlist too.
Six Figure Blogger – This is the ultimate formula for making six figures from your blog with digital products and services, all without being scammy or spending thousands on start-up costs.
Michelle at Making Sense of Cents also has a free blogging course that you can sign up for – How To Start and Launch a Successful Blog Course.
Workamping
Workamping is where you work at a campground or place in exchange for either a site or a site and salary. We always look for positions that also include the salary. There are many places to find workamping jobs. Here are a couple of my favorite places to look:
Our first workamping job was at Trailside RV Park. Angela & Paul are such friendly people. We loved it so much that we decided to work a 2nd time there three years later. If you are looking for other workamping possibilities,  Amazon has a workamping position in the fall for their Christmas season. We haven't done this one because they require you to have your high school diploma with you and we don't carry ours with us. Sugar Beet Harvest is another seasonal job that some people do. Both Amazon and Sugar Beet harvest work can be lucrative but will require long hours.
The only thing we don't care for about workamping is that how long you stay in one place depends on your position, so you have a little less freedom. That and some people can be quite piggy. But we do get to meet a lot of nice people.
There are many other ways to earn an income from the road, but this should give you a good start!