If you are planning to buy a recreational vehicle, you are probably thinking about how much RV insurance costs. Choosing the right RV insurance for your vehicle is very important. 
So, you must know the RV insurance rates in the US before you choose the right insurance.
In this article, I will talk about average rates of RV insurance in different states of the US, the types of RV insurance and the factors behind that varied the insurance costs. 
RV insurance rates can range from a few hundred dollars to $4,500 depending on the region, vehicle type and other factors. So, the cost depends on where you are registering your vehicle.   
However, this is just a range we are talking about. You need to know the RV insurance rates for better coverage on your budget. As I said before, the cost of your RV insurance depends on your state. You should start researching the factors that make a difference in buying insurance. Here is a simple but detailed guide for you to learn about RV insurance rates.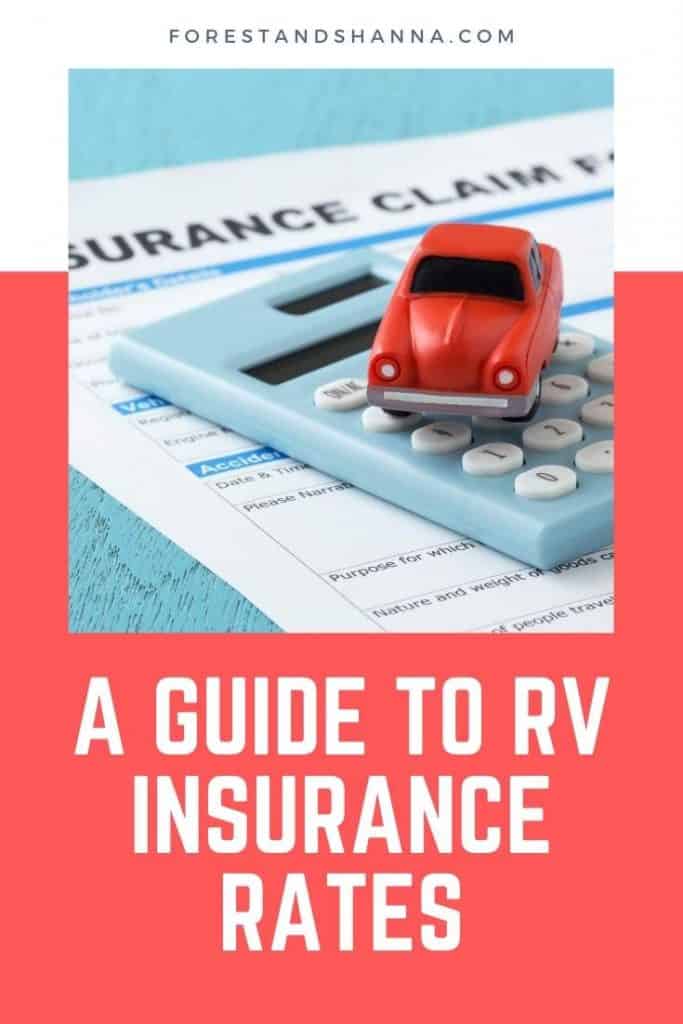 What is RV insurance?
In simple words, RV insurance is a protection plan for your recreational vehicle. The insurance will take care of losses you may face relating to your RV. 
Recreational vehicles are motor vehicles and trailers which have accommodation facilities. By RV people normally think of motor homes. They can also be travel trailers, camper trailers, campervans, fifth-wheel trailers and truck campers. 
Recreational insurance applies for all of these vehicles. What your RV insurance will cover depends on the policy you choose. There are various coverage options like collision, liability (bodily injury and property damage), comprehensive, medical payments and so on. 
There is even a policy which is a combination of auto insurance and homeowner insurance. It means that the RV insurance will cover for different parts of your vehicle and also cover the belongings of your motor home. 
Types of RV Insurance 
Now, there are two types of RV insurance you need to consider before you select an insurance policy. People can use their recreational vehicles as their permanent home or second home. Or, maybe use just occasionally for a little bit of adventure now or then. So, they must have the right policy. Based on this use, RV insurance can be two types.
Full-Time RV Insurance:  Do you use your trailer as your home? If so, then it needs Full-Time RV insurance. The insurance will cover liability, home insurance and medical payments in case of any accidents regarding your vehicle. As the policy will cover a lot, you might have to pay a considerable amount as the insurance rate.
Part-Time Insurance: This type of insurance is best for people who own recreational vehicles for occasional use. The Part-Time RV Insurance also covers liability and medical fees like Full-Time RV insurance. However, for this type of insurance policy, your insurance rate will be much lower.
Average RV Insurance Rate in Different States of the U.S. 
RV insurance rates depend greatly on where you live. Price of the insurance varies state to state. Some states have cheap rates for insurance and other states have expensive rates. Here are the average recreational insurance rates of different states: 
North Carolina:  In terms of RV insurance rates, North Carolina offers one of the cheapest rates. The average rate offered by the insurance companies is more or less $860 per year. So, the monthly fee is only $71.66. There are a few reasons for such a cheap price. For example, the number of high-maintenance motor homes is very few in number. 
Oregon: The second lowest rate in terms of RV insurance fee is in Oregon. The yearly cost is only about $1,100 and $91.66 per month.  
Massachusetts: After Oregon, you can find the cheap rates in Massachusetts. You have to pay $1,128 on average annually which is monthly $94 to the insurance company in that state. Insurance companies in Massachusetts are highly competitive against each other. So, they offer a low cost as insurance fee. They also give discounts on various occasions. 
Texas: The RV insurance rate in Texas can be $ 1,425 per year and monthly $118.75 depending on the type of cars and policies you select.
The District of Columbia: In this state, the annual cost of RV insurance is $2,610 and the monthly fee is $217.5. It is one of the highest costs for RV insurance in the U.S. 
Louisiana:  This state has one of the highest rates for RV insurance costs. The premium costs can be up to $2,912 per year. The monthly fees will be $242.66.
California: In California, the rate can start from $800 to $4,000 based on the type of motor homes and the state laws. 
As you can see the price of the insurance is different because of the state laws and policies. Then, other factors also influence the rate you will have to pay such as the insurance type you select. 
The Best Recreational Vehicle Insurance Companies in 2020:
There are many RV insurance companies all over the US which offer great insurance policies according to your need. They offer customer-friendly insurance prices, great coverage for losses and bundle offers for your RV. The best RV insurances in 2020 are: 
If you can choose your preferable insurance from these companies and contact one of their agents. They will explain the details of the company policy and help you to select the best insurance for your RVs. 
Factors Influencing the RV Insurance Cost
Apart from where you live and the type of insurance you select, there are a few other factors that affect the insurance rate. Some of them can be:
Type of motor home or recreational vehicle
State or Region
Type of Insurance 
Age of the driver
Driving Experience 
Age and Condition of the RV
Number of Accidents and Traffic violence in the past
Travel Destination
The Number of Claims made in the past for insurance money
The Number of People using the RV
This factor will determine how much the new RV insurance policy might cost you. The size of your recreational vehicle is one of the important factors. 
There are three types of RV. The first type is Class A which is the biggest in size with luxurious facilities. The size can be 23-40 feet in length. Hence, it will take costly insurance to cover. The second type is Class C. The RV size is smaller than Class A which is 20-33 feet in length. Then the third type is Class B which is 16-21 feet and very affordable.
Also, the longer you will be on the road the higher will be your insurance cost. The insurance companies will look into the details and fix an amount for insurance rate monthly or yearly. 
Conclusion
By now, you must have understood how much RV insurance costs depending on various factors. The main point is the insurance company rates are different based on the best policy for your RV.
You can select insurance according to your need and relax while you go on an adventure in your motor home as the insurance will take care of unwanted costs.