When you are looking for a camper, it is important to decide where you are planning to take it before you make your purchase. For example, if you have a smaller camper, odds are that you can take it almost anywhere.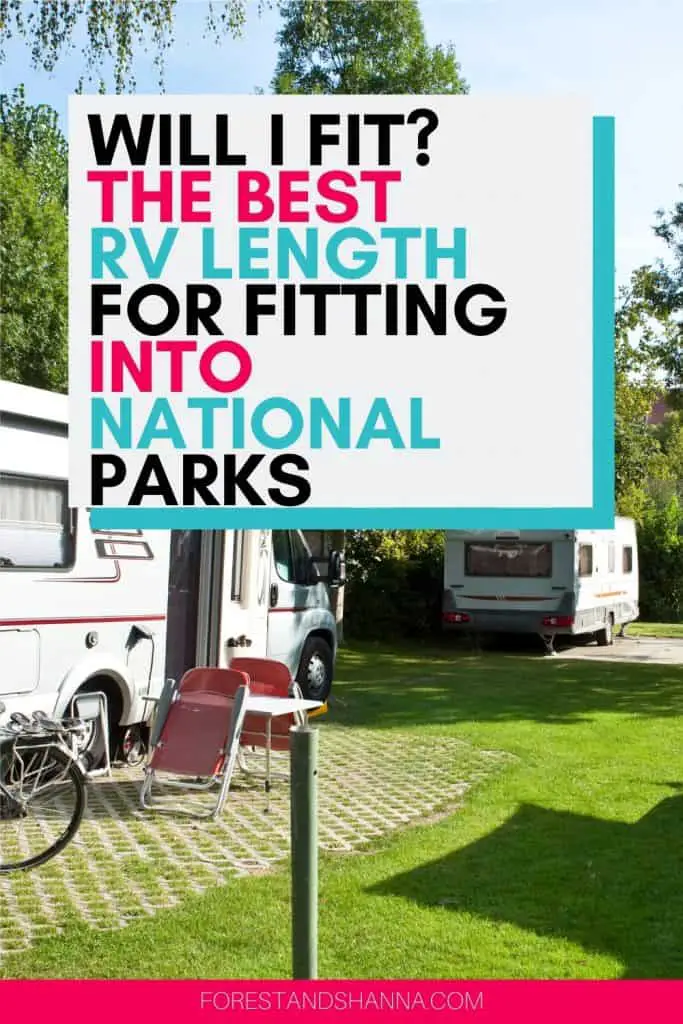 If your dream is to have a larger camper, you will want to take into consideration that you will greatly decrease the number of campgrounds that you can stay at.
After lots of research, in our opinion, the best length for fitting into National Park Campsites is 30′. At this size, you can fit just about anywhere. According to the US Park Services, "The average maximum length permitted is 27 ft, but some parks can accommodate up to 40 feet in length."
Best RV Lengths for National Parks
Next, I will list the averages. These are calculated with the combined length of your truck and trailer. To get the size of yours, you will have to hook up your trailer and get out your tape measure.
Never trust what the manufacturer says it is. Sometimes the manufacturer fudges on the length for whatever reason, so your rig could be longer or shorter than you are thinking it is.
Here are the averages:
RVs up to 12′ in length will fit in every national park campground in the United States. However, there are a few campgrounds that don't allow RVs at all and are tent only, so you will want to keep that in mind.
RVs up to 19′ in length will fit in about 98% of all national park campgrounds.
RVs up to 25′ in length will fit in about 93% of all national park campgrounds.
RVs up to 29′ in length will fit in about 84% of all national park campgrounds.
RVs up to 32′ in length will fit in about 81% of all national park campgrounds.
RVs up to 35′ in length will fit in about 73% of all national park campgrounds.
RVs up to 37′ in length will fit in about 60% of all national park campgrounds.
RVs up to 40′ in length will fit in about 53% of all national park campgrounds. (Be sure to remember that many of the parks will only have a few sites that are this size. You will want to be sure to book your site long in advance if reservations are available. If you don't, there is a very good chance that you will not be able to get a spot when you need it.)
RVs up to 41′ in length will fit in about 7% of all national park campgrounds (Be sure to remember that many of the parks will only have a few sites that are this size. You will want to be sure to book your site long in advance if reservations are available. If you don't, there is a very good chance that you will not be able to get a spot when you need it.)
Full List of Popular National Park Campgrounds and Their RV Size Limits
Acadia National Park

Blackwoods Campground – 35′ in COMBINED length of the tow vehicle (or towed vehicle) and the RV itself.  As with most campgrounds, your slideouts must fit in your space.  So if you have a toad (a car that you're towing behind the motorhome), then you really can't get in with anything longer than 29′ for the RV itself to fit in your space. There have been some RVers who went there said that they got away with being a little longer without any issues.
Seawall Campground – 35′ in COMBINED length of the tow vehicle (or towed vehicle) and the RV itself. As with most campgrounds, your slideouts must fit in your space. So if you have a toad (a car that you're towing behind the motorhome), then you really can't get in with anything longer than 29′ for the RV itself.

Arches National Park

Devil's Garden Campground – 25% of the spots accommodate an RV and towed vehicle combined length of 25′.  About 25% of the spots take an RV up to 30′, and about 25% of the spots can fit an RV up to 40′.
Archview Campground – Up to 50′ in length, but you will have to pay more for these premium spots.  This isn't owned by the national park system, so it's more accommodating.
Moab Valley Campground – Up to 44′ in length, but you will have to pay more for these premium spots.  This isn't owned by the national park system, so it's more accommodating.

Badlands National Park

Cedar Pass Campground – We couldn't find any official rules for this campground. Campers who went there said it was plenty big for even the biggest RVs.

Bryce Canyon National Park

Pines Campground – We couldn't find any official rules for this campground. However, visitors reported parking 40′ RVs without any issues.
North Campground – Officially the limit is 40′, but many visitors say that 40′ would be a very tough squeeze.

Denali National Park

Riley Creek Campground – Up to 40′ if you are willing to pay for a premium spot.  Regular spots are 30′.
Savage Campground – Up to 40′ if you you are willing to pay for a premium spot.  Regular spots are 30′.
Teklanika Campground – Up to 40′ in length.

Death Valley National Park

Sunset Campground – Up to 40′ in length.
Furnace Creek Campground – Some spots up to 40′ in length.

Everglades National Park

Flamingo Campground – Up to 45′ in length.

Grand Canyon National Park

Railway Campground – Up to 47′ in combined length (motorhome and toad or fifth wheel and tow vehicle)

Grand Teton National Park

Colter Bay RV Park – No real limit.  Even a 43 footer with a tow vehicle will fit in some of the spots.

Great Smoky Mountains

Abrams Creek – 12′ in length
Balsam Mountain – 30′ in length
Cade's Cove – Trailers up to 35′ and Motorhomes up to 40′
Cataloochie – 31′ in length
Cosby – 25′ in length
Deep Creek – 26′ in length
Elkmont – Trailers 32′, motorhomes 35′
Look Rock – No limit
Smokemont – Trailers 35′, motorhomes 40′

Joshua Tree National Park

Black Rock Campground – Half of the sites accommodate up to 25′ in combined length, and half go up to 35′.
Hidden Valley Campground – the COMBINED length of RV and tow vehicle or toad is only 25′
White Tank Campground – the COMBINED length of RV and tow vehicle or toad is only 25′

Redwoods National Park

Jedediah Smith Campground – Trailers 31′, motorhomes 36′
Mill Creek – Trailers 27′, motorhomes 31′
Elk Prairie – Trailers 24′, motorhomes 27′
Gold Bluffs – Trailers are PROHIBITED, motorhomes 24′

Rocky Mountain National Park

Aspenglen – 30′ max in length
Glacier Basin – 35′ in length
Moraine Park – 40′ in length
Timber Creek – 30′ in length

Sequoia National Park

NOTE: Although some campsites allow parking of larger RVs, Sequoia National Park has very restrictive rules about the length of RVs that can drive on certain roads.  Several roads don't allow anything longer than 22′, so you will want to keep this in mind when you are planning your route.
Lodgepole – Up to 40′ in length

Yosemite National Park

"In Yosemite Valley, the maximum RV length is 40 feet and maximum trailer length is 35 feet, however, only a total of 12 sites of this size are available (six sites each in Lower Pines and North Pines, which are open spring through fall). Many more sites exist in Yosemite Valley and elsewhere in Yosemite that can take RVs up to 35 feet or trailers up to 24 feet."

Yellowstone National Park

Fishing Bridge RV Park – Up to 40′ RVs and a vehicle of equal or lesser length beside it (So if your RV is 40′ and you have a car towed behind it, you're fine because the car can be parked to the side of the RV.
Bridge Bay Campground – 40′ COMBINED RV length (Meaning the length of the RV PLUS the length of the towing vehicle or the towed car behind a motorhome cannot be more than 40′.  Very limiting!)
Canyon Village Campground – 40′ COMBINED RV length (Meaning the length of the RV PLUS the length of the towing vehicle or the towed car behind a motorhome cannot be more than 40′.  Very limiting!)
Grant Village Campground – 40′ COMBINED RV length (Meaning the length of the RV PLUS the length of the towing vehicle or the towed car behind a motorhome cannot be more than 40′.  Very limiting!)
Madison Campground – 40′ COMBINED RV length (Meaning the length of the RV PLUS the length of the towing vehicle or the towed car behind a motorhome cannot be more than 40′.  Very limiting!)

Zion National Park