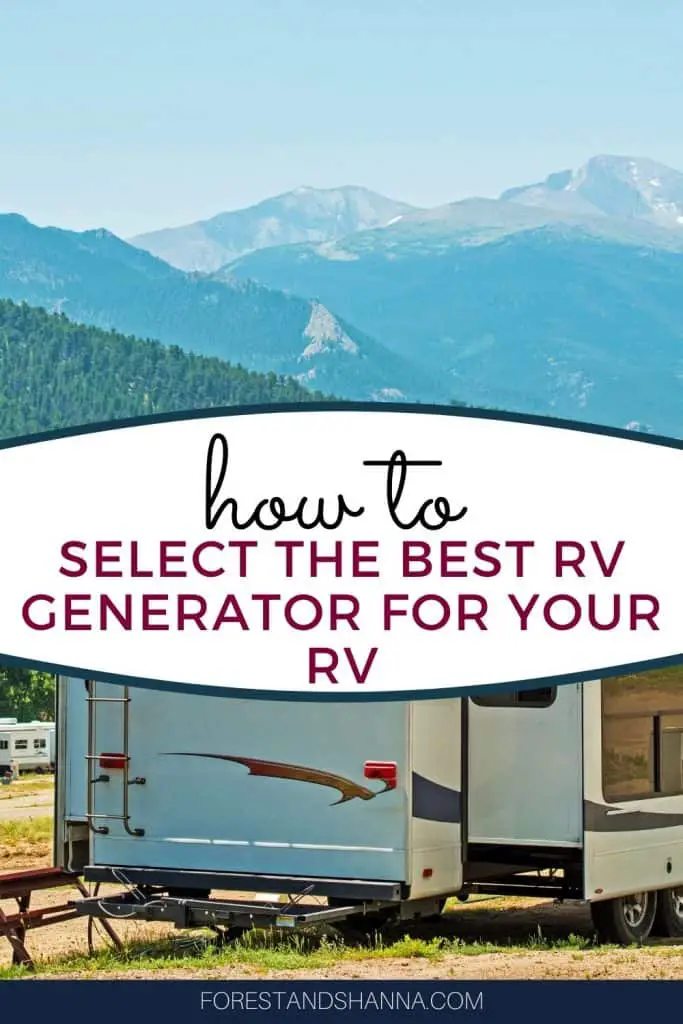 Comparing generators for an RV can be a daunting task. There are dozens of brands and model types of generators with various pros and cons. The many different types of generators mean that you need to consider a buyer's guide like this to narrow down the functions you are looking for in your generator for an RV and then apply it to a comparison list like the one offered below.
To get the perfect generator for an RV adventure, the following are essential features:
Noise level
Fuel type
Power Output
Portability
Cost
When you are in the market for a new generator for your RV, you may have a particular feature in mind like the length of time you need the generator to run, or selecting a quiet generator. Read on to use our buyer's guide to compare some of the best and most reliable generators for your RV with the details of each compiled in easy to read charts. (Source: Best of Machinery)
How to Choose Between Lithium Battery and Fuel Powered Generators
This list has a combination of lithium battery power stations and fuel-powered power stations. Each has its pros and cons, which are listed in detail below. Each type of generator boils down to preference and needs. 
If you don't need that much power, you can get the lighter, more portable lithium battery generators. If you need more energy for more extended periods of time, you will sacrifice noise level and portability with the bigger fuel-powered generators.
Lithium Battery Powered Generators
These generators must be charged at intervals and don't put out as much power as fuel-powered generators. Below are the pros and cons of battery-powered lithium generators:
Pros: 
Lightweight
Very portable
Green energy with solar panels
Multiple ways to charge the battery
Cons: 
Limited power time
Lower wattage output
It takes time to recharge batteries
Fuel Powered Generators
Generators who use gasoline or propane to power engines will be more powerful and last for as long as you have fuel. However, when you use fuel-powered generators with engines, you have to always deal with buying the fuel and listening to the running engine. 
These generators usually have much more power and power outlets than battery-powered generators. Below are the pros and cons of fuel-powered generators:
Pros: 
Powerful wattage
Long-lasting power
Many power outlets
Cons: 
Heavy
Hard to transport
Fuel costs money
Very loud engine
What Type of Fuel do Generators Use? 
There are three types of fuel that generators that are used for recreational RV camping use. The most common fuel types for generators are gasoline, propane, or in some cases diesel. The pros and cons of each fuel type are listed below: 
Gasoline
Pros: 

Available everywhere
Burns cleaner than diesel; fewer fumes

Cons: 

Less efficient than other types of fuel
More expensive than other types of fuel
Propane
Pros: 

Cleanest burning fuel
Costs less
Safer than other alternatives

Cons:

Does not produce as many BTU's 
More expensive generators, generally
(Source: Williams Energy)
Diesel
Pros:

Fuel efficient
Cost-effective
Diesel is available everywhere 

Cons:

Dirty burning fuel
Harder to repair than other generators
What Size Generator do RVs Need? 
Some guides may tell you that there are different generator wattages that are needed for 30 AMP or 50 AMP RVs. However, the best way to go about getting the right size generator for your RV is to look at the overall power you need and then add about twenty percent extra for total coverage if you are running everything at full power. 
For example, "a 50-amp RV requires a 12,000-watt generator to power everything at 240 volts and a 6,000-watt generator at 120 volts." (Source: Electric Generators Direct) So, it really depends on the power that you will be running your appliances at. 
Some other points to keep in mind are: 
Physical size: Make sure there is enough storage space to fit your generator into the space in your RV. If it won't fit, then you will need additional towing which could be a huge hassle and not worth it. 
Power Needs: Use a chart like the one below and add up all the starting wattages of the appliances in your RV to determine the power needs of your generator.
| | | |
| --- | --- | --- |
| Appliance Type  | Starting Watts | Running Watts |
| Air Conditioner | 1400-2000 | 1700 |
| Refrigerator | 600-1000 | 800 |
| Microwave | 1000-1500 | 1250 |
| Electric Stove | 530-1500 | 675 |
| Electric Water Heater | 1000-1500 | 1250 |
| Coffee Pot(4 cups) | 550-750 | 650 |
| Television | 200-600 | 400 |
| Portable Heater | 1500-750 | 1500 |
(Source: RV Tech Library)
When do you Use an RV Generator? 
Most RV campgrounds will have 30 or 50 amp electrical hookups where you can use the electrical power from the campsite to run all of the appliances in your RV. However, if you are off the grid, or at a campground that does not offer the power that you need for your RV and its appliances, you may need to get a generator. 
(Source: Trip Savvy)
Can you Run a Generator While Driving or Towing your RV? 
It is perfectly fine to run your generator while you are driving or towing it. Since you may want to keep things like the refrigerator running twenty-four hours a day, running the generator will help you accomplish this. 
There are several safety concerns to consider before deciding if you should run your generator while you are driving or towing it. Most Motorhomes will need to run a generator as you drive to run AC and other essentials, but if it is not essential to your trip consider these safety concerns. The precautions for your safety while using a generator if you are driving or towing an RV are listed below: 
Make sure there is ventilation for the fumes of the generator to escape
Fill up the tank of fuel on your generator before a long ride
Secure the generator in a place where fuel will not slosh around and spill
Secure in a place where the generator will not slide while accelerating or braking
(Source: Vehicle HQ)
The Best RV Generators
When you need a generator for your RV travels you also need to consider the features that each generator offers. The following buyer's guide chart gives a quick run down of some of the best generators for RV's with added detail for each afterwards. 
Final Thoughts
Choosing the right generator for your RV can be challenging. Still, the trick is to determine how much power you need and which generator features are most important to you. Keep in mind that most of these generators have limited warranties and that overworking your generator can damage them.